Re-constructed Vision
Contemporary work with photography 25th July-23rd August, 1981
2022 introduction, Gael Newton AM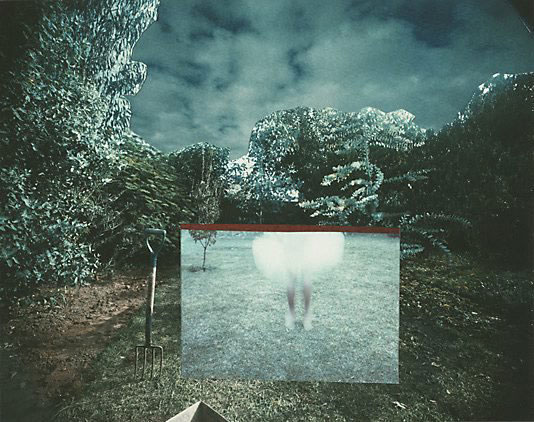 Leonie Reisberg Daytime Magic/Nightime Mystery  1981
Having worked my way through my archives and identified articles and essays that we have now published on this web-site, it came as a surprise that I had overlooked one exhibition that I have always been very proud to have brought together.
That was the 1981 Project Gallery exhibition Re-constructed Vision: Contemporary work with photography at the Art Gallery of New South Wales. It is now uploaded to the web site.
Re-Constructed Vision aimed to mark the then recent and rapid evolution of varied mixed media or manipulated practice by a new generation of art photographers. The exhibition also aimed to chart how photographic images were being used by other media graphic and conceptual artists – hence the presence of some print-makers.
A West Coast American embrace of mixed media had played its part on photographers and print makers and European and American trends in installation and performance artists use of photographic documentation.
Looking down through the checklist and what images we could find, I found the works were elegant and powerful with an energy and a sense of freedom to seek poetic narrative elements and the expression of emotion in images. It has been fascinating to see how most of the photographer contingent have sustained their creativity over the ensuing three decades.
I am not sure that the exhibited works count as postmodernism per se but these artists were certainly precursors. There was almost no interpretative commentary in the original small catalogue. I will be working my way through the checklist and hoping to add a longer review in future.
This online version is in three sections. The first is my 1981 essay. The second is the catalogue reformatted with image information and biographies as published in 1981.
Please note - we did not update any bios – they are published online as they were in the 1981 catalogue.
The third section is the 1981 review by Max Dupain. This review was not kind but I have published it as it provides a context. I remained good friends with Max, illustrating that having different views remains a healthy and important part of the arts. Curators and artists should not be afraid of reviewers offering views different to theirs.
The original catalogue had few images. We have searched for and included one image from the exhibition for each artist. This was not always possible – so for now, some entries are without an image.
And to connect to the present, we have provided a link to the artist's web-site of current works (if we could find such a link) or something equivalent as a resource about later works by the exhibiting artists.
I do recommend checking out those artists who have maintained websites of their artworks.
A final note. I am very happy to say that back then in 1981 the gallery's director and senior staff were supportive of an exhibition that was pushing the boundaries a little. I hope there are photo-curators out there in public institutions still enjoying such support and being enabled to collect and exhibit works of contemporary photography – alongside the ever-important historical collections.
Being able to take chances with contemporary photography exhibitions is good for the profession and the art museums themselves. The audience for photography remains strong.
1. essay >>> The 2022 online version of the 1981 Re-constructed Vision essay
2. catalogue >>> The 2022 online version of the 1981 Re-constructed Vision catalogue
3. review by Max Dupain >>> 1981 Sydney Morning Herald Review
---
more of Gael Newton's Essays and Articles