From the curator's crypt

The Photographers Party 1978
Gael Newton

---
1. David Moore photographing fellow photographers
Having recently arrived home in 1975 from Auckland University with a BFA degree in photography and art history, I was lucky to get a temporary education officer position at the Art Gallery of New South Wales. My friend Joan Kerr at the Power Department of Fine Arts had pointed me to the job, assuring me it was now quite the thing for art historians to work in art museums.
All I knew about curators was that Anne Kirker the very nice lass in charge of prints at the Auckland City Library, let students look at wonderful old prints one afternoon a week. I don't recall if they collected photographs too.
On the basis of my photographic education, I was asked by the Gallery's head curator Daniel Thomas in 1975 to undertake the Harold Cazneaux Project show. In at the deep end!
Thomas had introduced these small shows to present neglected artist or cutting edge shows as a complement to the rather major exhibition programs. A quick lesson in how to do a checklist followed and off I went working with Rainbow Johnson Harold Cazneaux's daughter to deliver the Cazneaux project show that also saw the first photographs enter the permanent collection at the Gallery.
With the Cazneaux show done, I continued work on Cazneaux's fellow Pictorialists with Mrs Johnson who had kept contact with many families of contemporaries and was by nature a born researcher. The exhibition Australian Pictorial Photography 1898-1938 followed in 1979.
Slowly I inched towards the moderns, including Max Dupain who I met at the time of his first retrospective at the Australian Centre for Photography in 1975 and on whom I would do a monograph and retrospective later at the Art Gallery of New South Wales in 1980.
Between 1975 and 1979 a lot of time was spent making contact with mid 20th century photographers or their estates for the 1979 book Silver and Grey : Fifty Years of Australian Photography1900-1950.
I managed research in Sydney and Melbourne mostly by direct visits and elsewhere as best I could be mail.
The Oswald Ziegler publications Australian photography 1947 and Australian photography 1957 and the magazines Australasian Photo-Review and Contemporary Photography were a principal guide.
I soon found that as I visited or made contact with photographers some still working professionally such as Dupain and Sievers others on diversified paths like Olive Cotton and Laurie Le Guay or retired like Russell Roberts, I was becoming a carrier pigeon reporting to each on how 'so & so' was going etc.
It became apparent that their closer contact of the immediate post war decades had dissipated regardless of how prominent the photographers remained commercial or in the new renaissance of younger photographers in the mid 70s.
Somehow the idea of a party to bring them altogether surfaced and David Pott's offer of catering at his home in Woollahra made it all possible. He was a good cook. The date was set for 7 October 1978
On Sunday 24 September Athol Shmith wrote to say that he and Mim Sievers thought  the party idea was 'fantastic'  and provided a list of names Dacre Stubbs, Marc Strizic, Ian McKenzie, Gordon Andrews, Douglas Baglan and Gordon de Lisle 'a colourful and amusing character – bloody good value at such a function' who now ran a Gallery in Queensland.
I found a copy of my invites list and various acceptances and regrets.
(the story continues below the photos)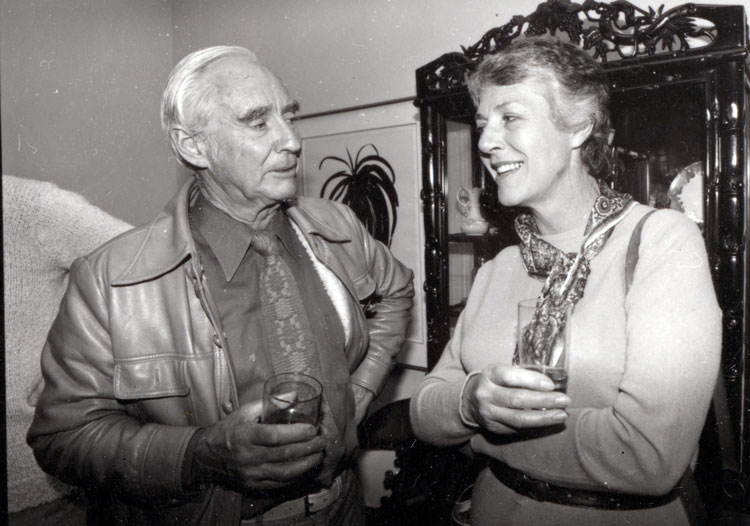 2. Max Dupain talking with Bronwyn Thomas former Director of the Australian Centre for Photography photograph
3. Margel Hinder and Robert Emmerson Curtis and Bronwyn Thomas talking to Gordon Andrews
4. Gael Newton (then Curator of photography, Art Gallery New South Wales) event organiser with party host David Potts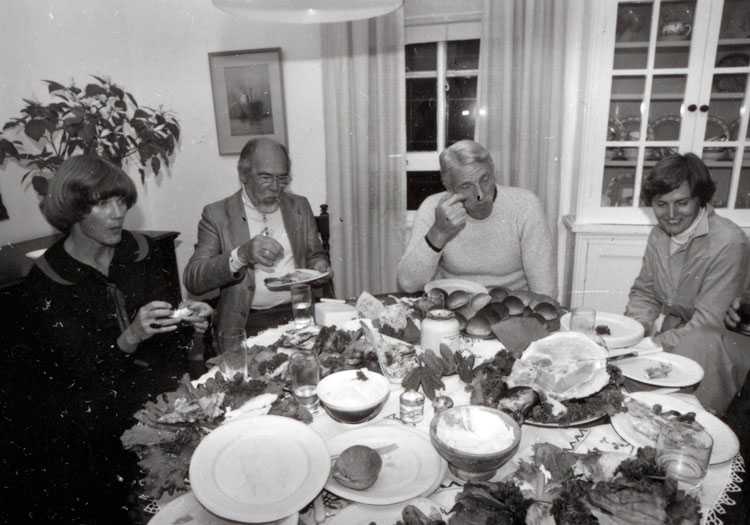 5. Jenny Blain, Gordon Andrews, (unkown), Jill Crossley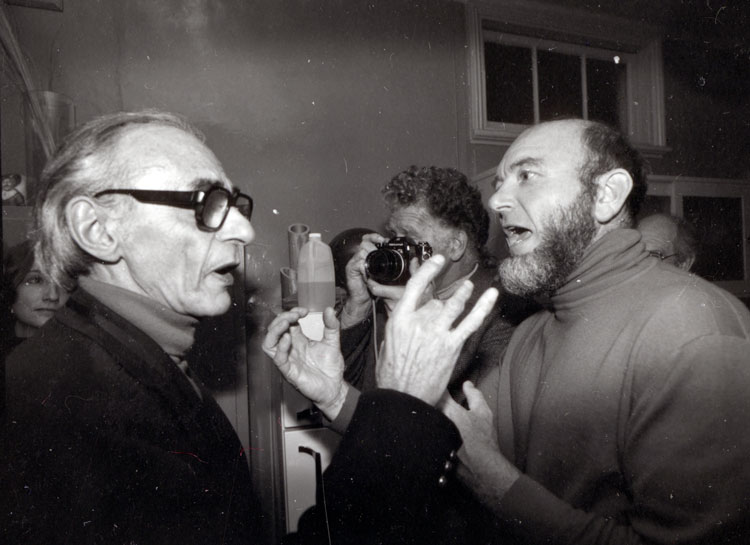 6. David Moore rear photographing Athol Shmith and David Potts, rear left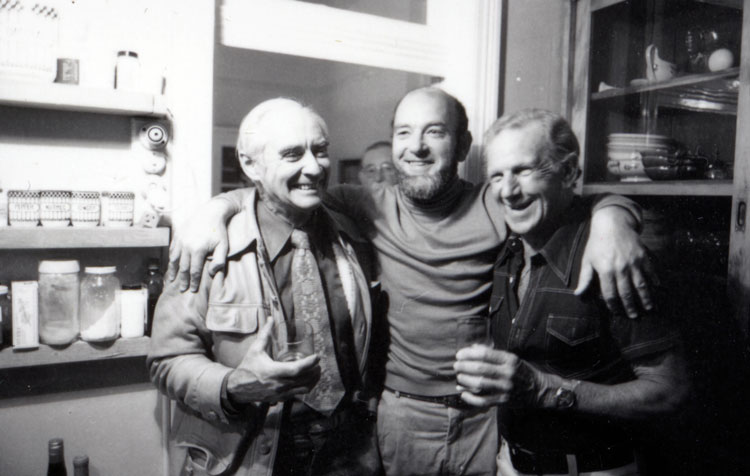 7. Max Dupain, David Potts, Ray Leighton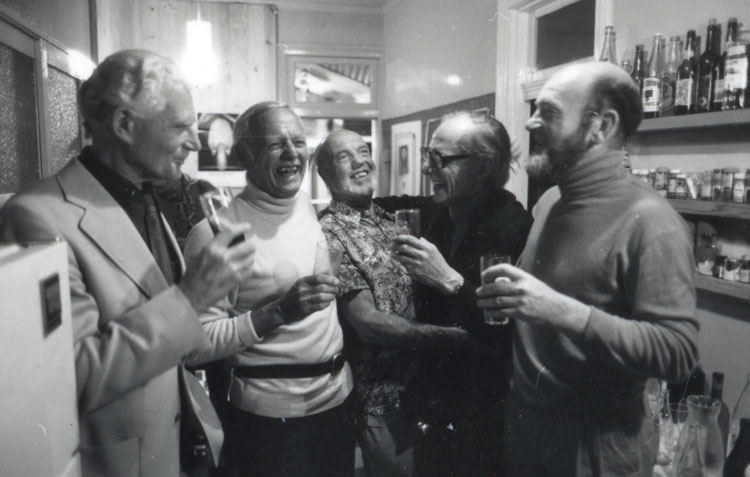 8. Russell Roberts, Laurence Le Guay, Wolfgang Sievers, Athol Shmith, David Potts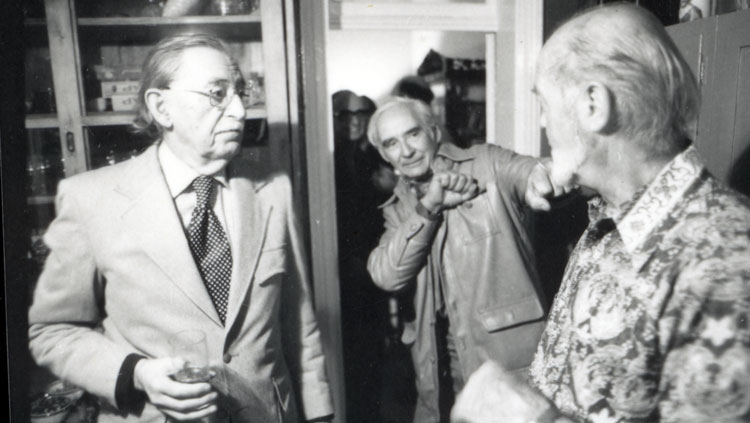 9. Reg Perier, Max Dupain, Wolfgang Sievers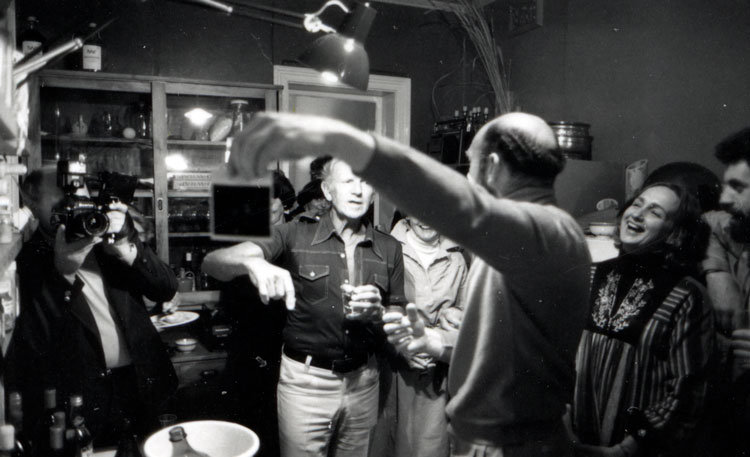 10. David Moore photographing David Potts with polaroid, Ray Leighton and Jill White looking on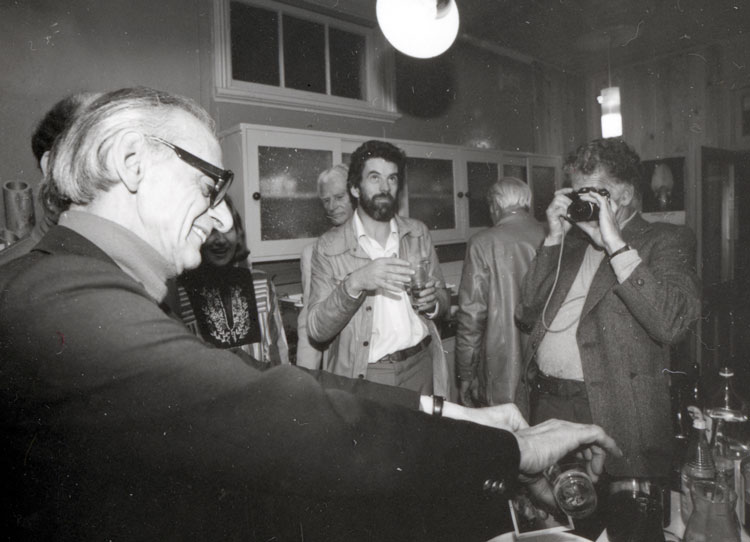 11. David Moore photographing Athol Shmith mixing drinks, Ian McKenzie in rear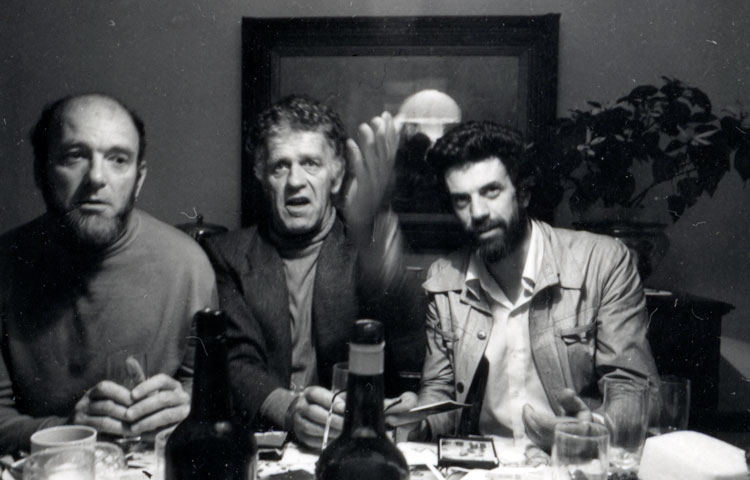 12. David Potts, David Moore and Ian McKenzie
Images © Courtesy David Moore estate
The comments were interesting Jean Blundell Harold Cazneaux's daughter who had worked for Russell Roberts and Monte Luke studios, wrote on the 22 September to accept with delight saying that of the 1940s-60s – 'It was a time of great change in technique and about that period very much beautiful and individual type of handwork was done before it was priced out of demand.'
The night came and a solid Sydney and Melbourne contingent attended. Fortunately David Moore and Max Wilson took a lot of photographs capturing the genuine high spirits of the night but also a chorus line of photographers some of whom had not seen or spoken to each other for a decade or more.
Looking through the list I see that a number had major retrospective or new attention in the years to follow and most now deceased. Many have had selections of their work go into archives. I was fortunate to meet so many in person and to do a little toward recording and paying respects to their achievements.
In 2017 however a new dilemma arises. Many among the next generation the 1960s-2000s have worked in an environment where their work was publicly seen as art and their work has been exhibited and collected – but their archives and individual biographies have not been studied and their archives are in as much danger of disappearing  as their 19th century photographers.
I am not sure what the solution is to be as the problem is big and grows. The institutions that once would have attended to this issue are under financial stress with many now dominated by corporate requirements that allow little for the heritage collection of Australian photography archives.
On another level I recall that our public institutions have long forgotten how to celebrate the artists - the creators. While there are many exhibition openings and events, the focus is mainly on the corporate support and marketing. I can recall when Betty Churcher used to stage artists parties and artists came from all over Australia to see each other and celebrate with the NGA.
Celebrating artists - having artists parties - remains a good thing to do.
See also Building the Art Gallery of NSW photography collection
---
The invitees were
David Potts 1926 - 2012 - (Obituary by Robert McFarlane

Rob Hillier 1913 - 1991

Jean Blundell nee Cazneaux 
Geoff Lee a photographer also son of photographer model agent Sandra Lee
Chris Hamilton son of Hans Hasenflug
Wolfgang Sievers 1913-2007

Henry Talbot 1920-1999

Robert Emerson Curtis 1898-1996 ( + wife)

John Herder
Eric Bierre
John Nisbett     
Reg Perier
Gervaise Purcell
Michael Keckwick
Brian Churlian
Noel Rubie (already deceased)
Reg Johnson
Lex Haliday
Margot Moore nee Donald 1923 –

Jennifer Humphries
Geoff Cummings
David Franklin
Barry Loudon
Bruce Manette
Harold Wyse
Max Wilson
Laurence and Vy Collings
Don Woods

---
for more of my Essays and Articles (click here)