Dorothy Warner
Adelaide
1890-1969
Gael Newton AM

---
Part of series on works from our collections that have been re-homed and some favourites that will stay with me
---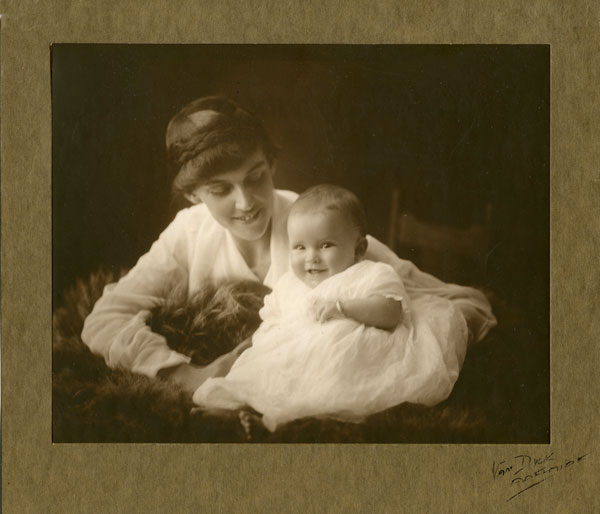 Van Dyck Studio Adelaide c.1914 - attributed Dorothy Warner
Another Australian portrait that I have despaired of finding an appreciative home for is a luminous portrait of a young mother and her baby by Van Dyke Studio in Adelaide.
It is a rich, softish-focus and dramatically lit matt print on the dark tone textured papers favoured by art photographers in the early 20th century.
I became quite excited that it might be a work by pioneer Adelaide professional Dorothy Warner (1890-1969) who had attracted considerable attention for her portraiture for some years enough to warrant three portraits The Critic of 8 July 1914 and a full profile on 15 July. She had a show of her portraiture coming up from 20-22 July at Society of Arts rooms under the auspices of the Adelaide Camera Club.
The Lone Hand of 1 January 1919 also profiled Warner and declared her "South Australia's First Woman Photographer" in a full-page article by Muriel E Farr.
In that article Warner, whose home was in Kapunda where she had offerred a portrait service for a few years, reported that she had started her own studio in King William street, Adelaide.
She had gained professional experience in 1917 in a city studio. It is likely that was the Van Dyke studio opened in Gresham Chambers, King William street in 1913.
A portrait of Warner by the Van Dyke studio was illustrated in The Critic of 1914
All these achievements were quite something for a young woman photographer.
In the Lone Hand Warner cited British photographers Alice Hughes- the first gentlewoman professional photographer in London in 1891, and Lallie Charles  as a models but her own work was more impressionistic art photography in style than theirs.
Link to National Portrait Gallery UK
Warner was the daughter of Thomas Warner and amateur active in Kapunda Photographic Society and had won prizes herself in early competitions in South Australia and in the Women's Work Exhibition in Adelaide and Melbourne in 1907 winning prizes and a show of her portraitures in the Kodak Office in Rundle street the same year.
Commentary on her work noted that it was as in the latest art photography style.
Illustrations confirm Warner was very adept at the moody atmospheric style and inventive posing of early Pictorial salon art photography comparable with her contemporary professional women sisters May and Mina Moore in Sydney and Melbourne. Otherwise there are scant remains of what was a body of skilled and up to the minute stylish portraiture by a pioneer professional woman.

Warner opened her own studio at 37 King William street in October 1917 and closed it October 1920 prior to her marriage on 4 November.

Like many women essaying a new independent vocational opportunity in the early 20th century, on marriage Warner ceased work and is not known to have continued photography or other artistic pursuits. She died in Beaumont, South Australia in 1969, having been interviewed by Adelaide protohistorian Bob Noye in 1966 but more about her brief association in her teens, with art photographer John Kauffmann also from Kapunda.

One original hand-coloured soft focus portrait by Warner of the young Adelaide painter Rose McPherson later a famed modernist Margaret Preston, is in the Art Gallery of New South Wales and a group of WWI portraits are in the Australian War Memorial collection.

It is hoped more examples can be found of her original prints. I am taking a punt based on the similarity to Warner's distinctive sloped letters in her signature that the portrait I have from Van Dyke studio is by Dorothy from her time with Van Dyke studio. Van Dyke studio may have been managed at that time by A.S. Stump also known for adopting art photography styles for his portraiture.

Portrait of Dorothy Warner
Van Dyck Studio, Adelaide 1914
................................................................
This piece was assisted through the research by Sally Jackson on Photoria: Australian Women Behind the Lens 1850 to 1950
---
more of Gael Newton's Essays and Articles
---