George Silk
Fawn and rainbow trout, tributary of the Madison River, Montana
---
Originally published as an entry to the NGA's Acquisitions 1999
---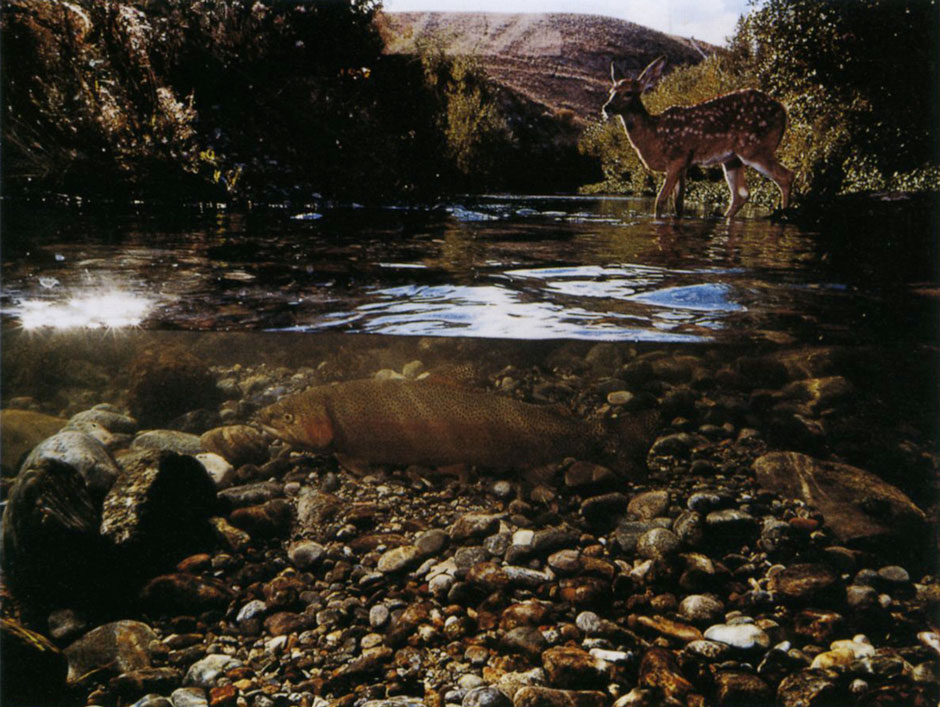 George Silk, New Zealand   b. 1916 to United States of America 1945 Fawn and rainbow trout, tributary of the Madison River, Montana 1961
dye transfer colour photograph printed later 1999.104

---
The New Zealand-born photojournalist George Silk worked for LIFE magazine from 1943 to 1972. During the 1960s, as one of the magazine's 34 staff photographers, he developed a reputation for dramatic outdoor action shots in colour. He frequently went to physical extremes to obtain images. His training as a combat photographer in World War II (first for the Australian forces in New Guinea, Europe and the Middle East 1939-1943, then for LIFE magazine in Europe and Japan 1943-1945) honed his reflexes in planning and timing his response to the subjects of his assignments.
As a young amateur photographer in New Zealand in the 1930s, Silk pursued technically challenging shots and sought to delight his audience by seeming to place them within the scene. He was a keen skier and sailor and retained these interests throughout his career.
Fawn and rainbow trout will be included in the retrospective of George Silk's work to be presented by the National Gallery of Australia in August-November 2000. A variant of this picture (with two trout) was published as a double-page spread in 'Wild Creatures of America' under Silk's byline in a special issue of LIFE, vol.51, no.25, 22 December 1961. This issue of the magazine had as its theme; 'Our Splendid Outdoors'. The story was a major assignment for which Silk travelled 11,000 miles across America over four months in 1960.
To make the picture, Silk was hidden from view, and the camera was enclosed in a large glass box submerged half-in and half-out of the water to captures both the trout and the fawn. To activate the shutter, Silk used a wire leading from his position to the camera inside the glass box. He carefully selected the spot in the river, based on observation and knowledge of the fauna at this season when the trout were spawning.
Silk waited over a week for all the elements to come together. As he has said: 'I used my knowledge of how trout react when disturbed while spawning. So I moved some rocks to make the water flow in an attractive way to spawning trout.'
The significance of the picture lies not in the technical ingenuity of its making but the proposition it makes by placing the viewer inside the scene. We are simply back in Eden, and at one with nature.

---
---