OLIVE COTTON
Max in the Shadows, c1935
Gael Newton

---
Originally published as an entry to the NGA's Acquisitions 1999
---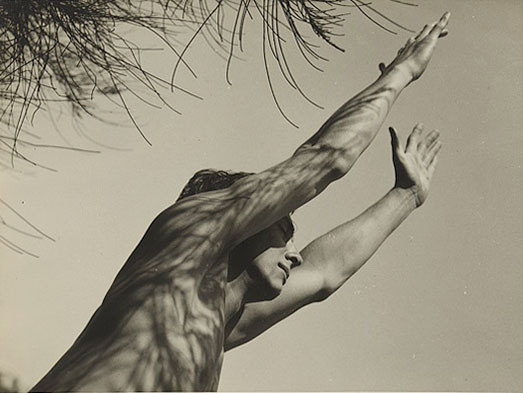 Olive Cotton , Australia  b.191 1 Max in shadows c .1935 gelatin silver photograph 1998.166
At the beginning of her career, Olive Cotton made this outdoor figure study of Max Dupain, a fellow photographer and friend with whom she had shared an enthusiasm for photography as a teenager. Cotton's first works in the late 1920s and early 1930s were in the established Pictorial style of art photography, although her work was soon distinguished by a sensitivity to the pattern of light and shadow as well as the inclusion of animating rhythms and arabesques in the composition.
Cotton majored in mathematics and English at Sydney University but, after graduation in 1934, joined Dupain's newly established professional studio in Sydney as an assistant. Absorbing the impact of modernism in the mid-1930s, Cotton's work features strong geometric forms and the high, low, and skewed camera angles which were the hallmark of the small hand-held 35mm cameras introduced in the 1920s. Her work retained the grace and inner luminosity of the best Pictorialist photography and tempered the strict geometry of the modernists.
Athletic male figure studies modelled on the Hellenic ideal of male beauty were a feature of the 1930s when a whole range of health and nature issues promoted physical culture and outdoor lifestyles. In Cotton's study, her youthful subject emerging from under the shade of a tree also appears to be making a gesture of supplication to the sky rather than exercising.
The image reflects the kind of free joy in the body and sensaulity promoted by long established Sydney artist, Norman Lindsay, whose often controversial works promoted the pagan Greeks rather than the cold academic neo-classical style. Lindsay was much admired by Dupain for his stance against 'wowsers' and straight-laced living. Cotton deftly brings to this study — as she did to all her subjects — an ability to absorb and transcend styles.

---
---