EXHIBITION REVIEW
Old Pictures Afresh
A landmark exhibition of early photographs from Asia and the Pacific occasions a reconsideration of how to view the region's rich, troubled history.
Doug Hall

---
Originally published in Art Asia Pacific Magazine 2008
---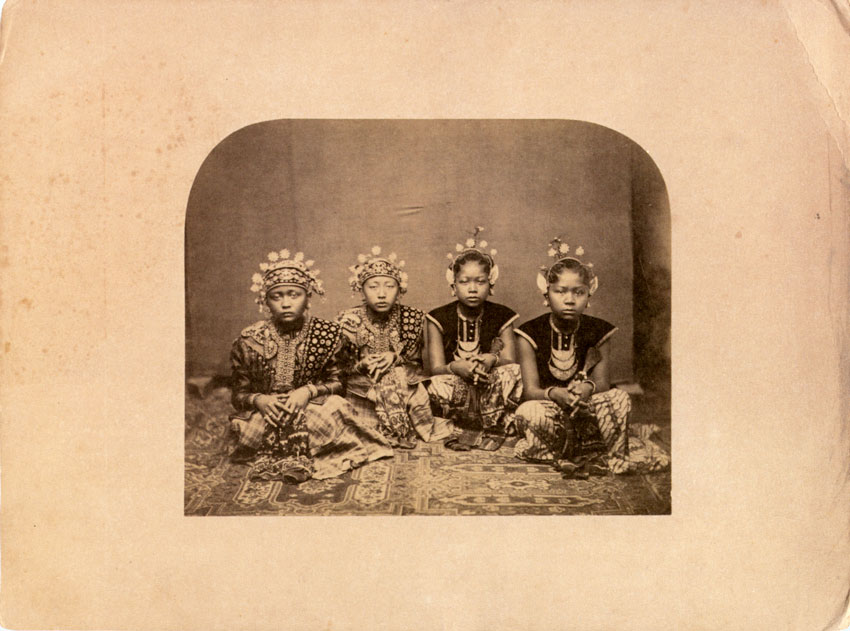 WALTER BENTLEY WOODBURY, Serimpies, or dancing girls of the Sultano, 1858, albumen silver photograph, 14.3 x 17.4 cm.
Courtesy National Gallery of Australia, Canberra.
For a moment late last century, historical photographs lost their picturesque mystique and became fodder for postcolonial discourse. Old images were commandeered and transformed by artists whose desire for appropriation was insatiable. Even those photographs that expressed generosity—a strange but authentic affection for their subjects—were taken from their original contexts and used to illustrate a condemnation and singularly cliched view of our past.
Imbued with self-loathing, these works did little to explain why things happened, how events were perceived at the time or how we might usefully quote history in the modern world. In Australia this cultural position rankled then-prime minister John Howard, who pejoratively declared it a "black armband" view of history, launching a fractious and ongoing national debate.
Serious historical issues deserve better consideration from artists, though it was inevitable that one-trick appropriationists would exhaust themselves: without hope, radiance or imagination, an assertive nothingness took hold. The overt and subtle oppression of peoples, the erasure of their cultures and the often violent incursion into Indigenous lands contain manifold individual stories. And they are specific, as real loss has a deep individual and collective effect and cannot be a set of stand-alone theoretical propositions.
What makes "Picture Paradise: Asia-Pacific Photography 1840s-1940s" at the National Gallery of Australia, a pleasure to view is the way it resists the temptation to revise potential meanings wrought out of contemporary political debates or the specter of postcolonialism's anxiety.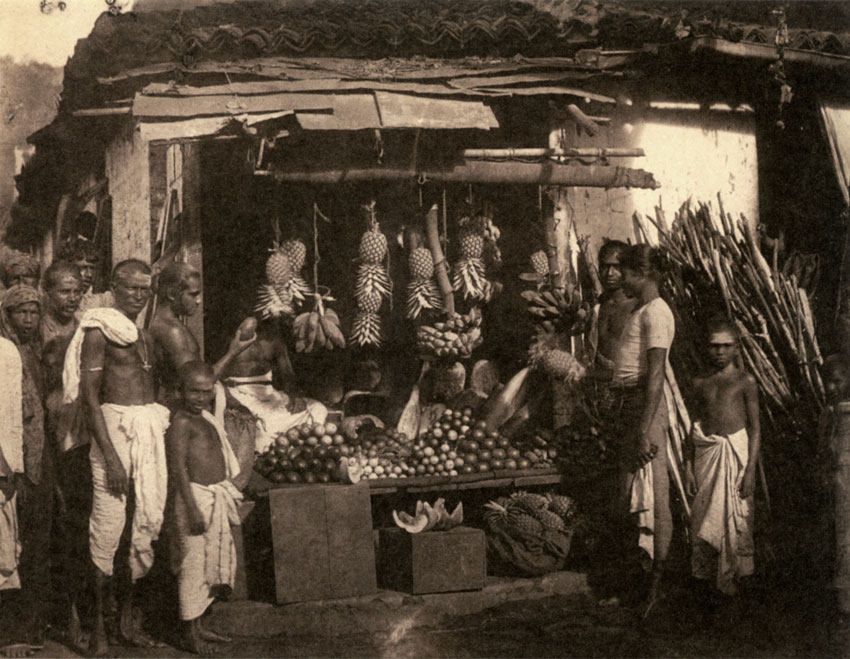 CHARLES SCOWEN, Market of Ceylon, 1880, albumen silver photograph, dimensions unspecified.
Courtesy National Gallery of Australia, Canberra.
Curated by Gael Newton, "Picture Paradise" includes over 400 photographs and albums from India to the West Coast of North America. The photographs cover all genres and practices from professional studios to peripatetic amateurs. Stiff portraits certain in their role of recording a particular moment sit alongside unknown faces softly animated with the antithesis of Officialdom.
While photographing seemingly unimportant incidents seems at odds with 19th-century visions of the sublime, these pictures are nonetheless mesmerizing for their infatuation with detail and their fascination with people and places only partially understood.
Museum exhibitions tend to overemphasize the technical processes—from the earliest daguerreotype to the modern gelatin-silver film—as representing the triumph of the photographic image. Emphasizing the science and history of technique can obscure the photographer's intention.
We have moved beyond image-as-historical-curio or worse, as objects easily discredited as modern, two-bit political identity markers. In "Picture Paradise," we are compelled to look at such images afresh—such is the mutable nature of the modern gaze.
Among the many subjects in "Picture Paradise" are the views of traditional cultures at a special, perhaps fleeting, moment. People look into the camera with indifference and without self-consciousness. In Walter Woodbury's Serimpies, or Dancing Girls oftheSultano (c. 1858), none of the four seated girls is dancing. Woodbury's interest is in portraiture and costume, not performance. Inevitably, one finds exoticized beauty in the subtly awkward poise between the consent of a subject who does not understand completely the photographer's purpose.
Andre Roosevelt's Legong Dancer, Bali (c. 1928) is a generous portrait of a young woman at ease in her native dress and adornment, full of wonder at the interest of the photographer. Again, there is a clear distance between his fascination with the subject and her look of uncertain acceptance.
The West often marked its supposed differences with Asian, Pacific and tribal cultures by representing them as more capable of barbarism. Images of death and retribution as public spectacle were widely published at the time. The anonymous Chinese Death by Strangulation (1880) shows figures held by their necks in wooden cage­like structures displayed in public view. Its graphic realism is moving because of its documentary style; any artistic intervention would have diminished its disturbing effect.
An enduring interest in the sublime is evident in many pictures, including picturesque landscapes and seascapes and classically composed panoramas. Embodying the spirit of discovery, they express the point of view of an enthralled yet cautious observer, yet remain free of late 18th-century imperialist triumph.

In photographs of the West Coast of America such as Eadweard J. Muybridge's Sylvan Bar, Valley of the Yosemite (1872) there is a religiosity in the photographer's obligation to represent God's work. Elsewhere, there are city, town and village views, including the grand series Panorama of Sydney Harbour and Suburbs from the North Shore (1875), 23 recently restored photographs by Charles Bayliss measuring almost 10 meters long.

The Pacific, in particular, lends itself to kitsch in silhouetted images shot at dusk or pictures revealing the idealized warmth of unknown women. They perpetuate the idea of the Pacific as perpetually calm in its delirious inertia. The sexualization of Asian and Pacific subjects by European photographers is a frequent subject of postcolonialism's attack on the experience of Pacific conquest.

ANDRE ROOSEVELT, Legong Dancer, Bali, 1928,
gelatin silver photograph, 23 x 17.9 cm.
Courtesy National Gallery of Australia, Canberra.
One's supposed complicity is contingent on how each viewer understands a particular subject; where some find charm, others see erotic desire. The Pacific as the representation of an Arcadia of sexualized dreams is much-covered territory from Gaugin to modern tourist and advertising photography. It's a timely point of discussion, especially given current Australian prime minister Kevin Rudd's reaction to the so-called Bill Henson controversy (see aap 59,60).
In the past three decades, museum holdings of photography have been reconsidered in ways that have shifted the nomenclature of the categorization of collections. Competing buyers and bidders for photographs include art museums, libraries, ethnographic and subject-specific historical collections.
The National Gallery of Australia's substantial photographic collection has made significant additions of work from Asia and the Pacific. That the heritage photograph has been liberated and cast into many contexts allows images to speak across cultures, generations and contexts.
DOUG HALL is the former director of the Queensland Art Gallery
and the commissioner of the Australia Pavilion for the 2009 Venice Biennale.
---