Celebrated Australian photographer
Robert McFarlane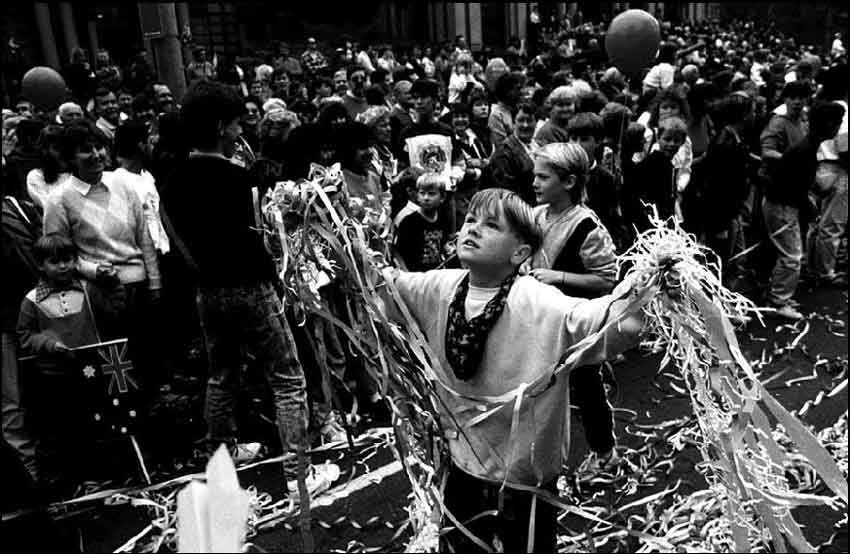 Boy at Australian Test Cricket Victory Parade Sydney c.1987
Robert McFarlane has worked as a freelance photojournalist since the .early 1960s, but is better known to the general public through his long-standing role as photography critic for the Sydney Morning Herald. Born in Adelaide in 1942, McFarlane moved to Sydney in 1963 and later honed his skills in London in 1969-70 working for the major illustrated magazines and papers -including The Times, Daily Telegraph and Sunday Times.
Returning to Sydney in 1970, McFarlane worked on a variety of assignments but has specialised over the last two decades in stills work and portrait assignments for leading theatre and feature film directors. He is widely recognised as the outstanding figure in those fields.
In 2005, the National Gallery of Australia acquired a group of 21 works to represent his body of work as an exemplary coverage of themes at the heart of late 20th and early 21st century Australian life. On looking through the images in McFarlane's archive it was noticeable to me as curator, how often the artist returned to Anzac Day marches and the faces and 'look' of a pre-war generation.

He explained this orientation by referring to his early life. McFarlane observed that his literate and musical parents had the common touch and a strong sense of family and extended community.

This translates in his work to an empathy with a pre-war generation that was rapidly obscured in the late 1960s by the fresh energy of a consumerist youth dominated counter-culture. Yet McFarlane was also to become a sensitive documenter of the sub-cultures of the younger generation and his own contemporaries.

Throughout his career McFarlane has engaged with social issues including representation of indigenous leader Charlie Perkins and mostly urban communities in Sydney.

He was one of the photographers selected for the Australian Institute of Aboriginal Studies by the Institute of Aboriginal and Torres Strait Islander Studies for the massive documentation project edited by Penny Taylor and published in 1988 as After 200 years: photographic essays of Aboriginal and Islander Australia today. McFarlane's first works in the National Gallery collection came from his stay at Cherbourg in Queensland for that project.

Charles Perkins on a bus to Tranby Aboriginal College, Glebe, c.1964
The great French photojournalist Henri Cartier-Bresson once described himself as a 'master thief.' He was renowned for his deft camera operation and capturing people on the run. McFarlane similarly moves invisibly among groups. He avoids the cliched 'human interest' subject, often settling his focus on a personal moment of reverie which nevertheless resonates with a wider social context and national consciousness.
His Dawn service picture, for example, came about through McFarlane's interest in the association ofThirroul on the south coast of New South Wales and British writer DH Lawrence who spent time in this seaside hamlet in 1922. He had photographed Anzac images and would make the definitive picture of legendary WWII figures.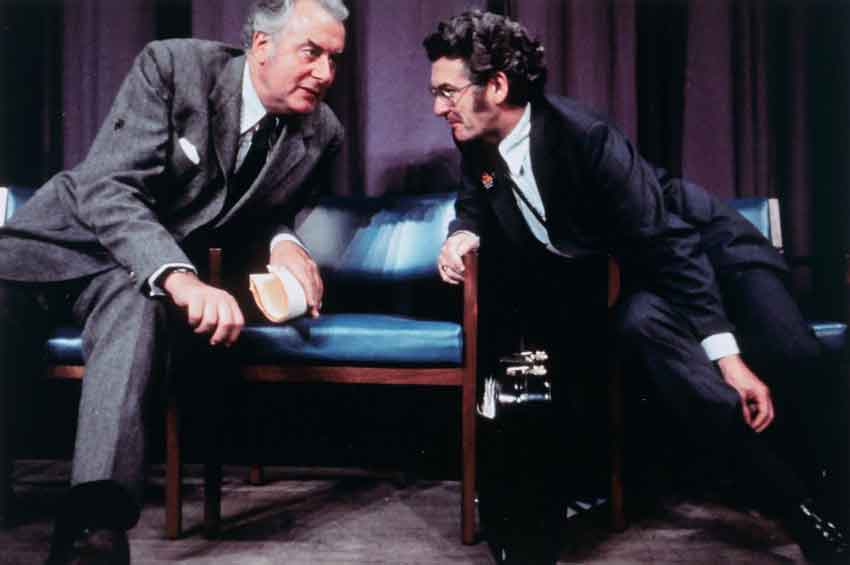 Gough Whitlam and Bob Hawke, c.1976
Perhaps it was McFarlane's own love of words and writing that made him stay up all night so he wouldn't miss gathering of local veterans on 25 April 1978, which was a self-elected assignment of special significance for McFarlane who was born the year Anzac marches started.
Robert McFarlane is one of the most distinguished and beloved figures the immediate post-war era photographers in Australia whose careers developed in the 1960s. He is certainly the most significant South Australian photographer of his generation. This group includes classic landscape photographers: John Cato (Melbourne), Richard Woldendorp (Perth), Wesley Stacey (all over Australia) and architecture and topographical artists John Gollings (Melbourne and Asia), and Richard Stringer (Queensland). The group includes documentary photographers Jeff Carter (South Coast, New South Wales) and John Williams (Tasmania).
Curiously, few of these 'national treasures' have had the level of critical study and museum attention enjoyed in recent decades by such between-the-wars modernists and pioneer photojoumalists such as Olive Cotton, Axel Poignant, Max Dupain and David Moore. Their bodies of work however, are the aesthetical and historical reservoirs of the last half century.
Robert, based in his hometown of Adelaide, is currently preparing for his first major museum retrospective at the Manly Art Gallery in December 2009
Gael Newton
Formerly Senior Curator, Australian and International Photography
National Gallery of Australia

this 2008 text originally published Art and Antiques NSW - click here for PDF version
or
click here for Robert's web site
---