Mark Kimber
The River of Faces
Gael Newton AM

---
The article was originally published
in the exhibition pamphlet for the 2018 exhibition
at GAGPROJECTS (Adelaide)
---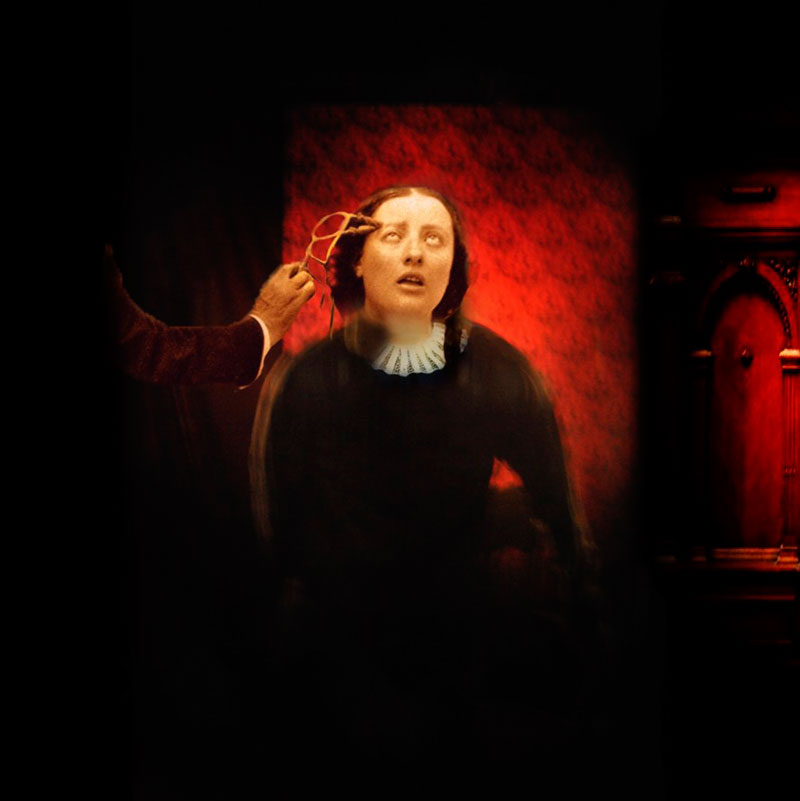 Induced DuchenneSmile, Oct 7, 3.45 am. Pegasus print, 25 x 25 cm.
That photography could reveal more than the eye could see in high-speed action or of far distant planets, was well established by 1900. It was also fervently hoped the medium could interface with other dimensions including the world of spirits and become a bridge to communicate with deceased loved ones.
Fake photographs abounded and fooled the most eminent of scientists and literary figures; Author Arthur Conan Doyle creator of the super rationalist detective Sherlock Holmes in the late 1880s, became a prominent supporter of spiritualism and by 1917 believed in spirit photographs
Mark Kimber's River of Faces draws on the spirit photography of the late 19th and early 20th century.
Contact made,
October 4, 3.45 am, 2018, Pegasus print, 25 x 25cm.

Partial Materialisation,
October 11, 1.15 am, 2018, Pegasus print, 25 x 25cm.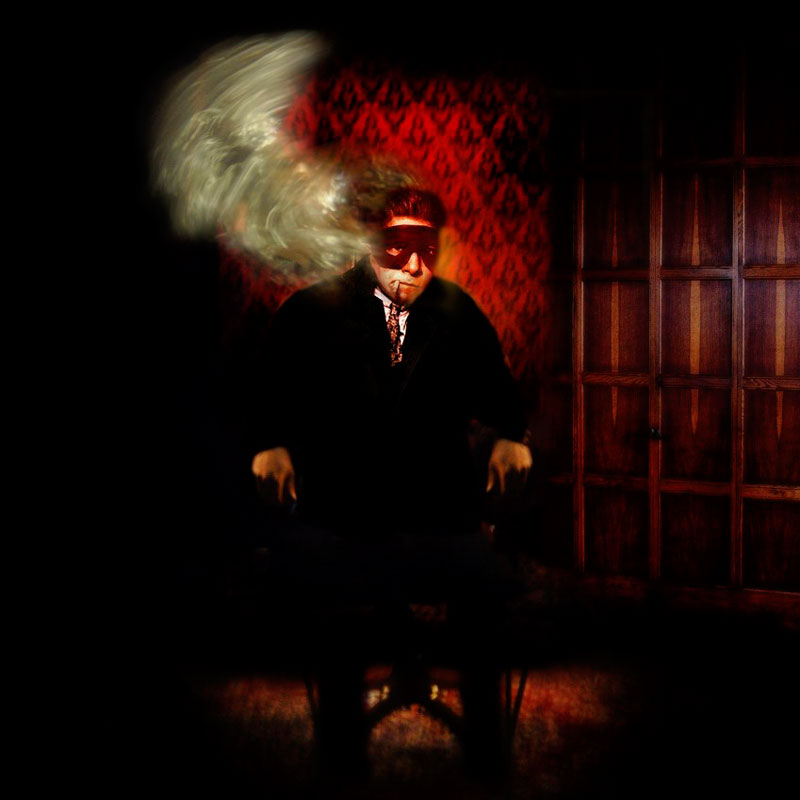 Ectoplasmic manifestation, December 17, 1.08 am, 2018, Pegasus print, 25 x 25cm.
The work is part of a personal lineage for there is an otherworldly subtext to Kimber's often hyper real or digitally conjured bodies of work since the 1980s.
Even in his seemingly straightforward images such as Groms showing a trio of almost identical blond beach boys in curiously marked clothing could be aliens from the village of the dammed.
Kimber's nocturnal images look like placest in which something has or should, happen. His digitally painted works show a flirtation with the terror of science as in Brighter than a thousand suns a meditation on nuclear destruction. The roll call of his series titles would make good book or movie titles.
Kimber's imagery has the intensity of childhood wonder looking out the bedroom at night and fearing monsters or seeking communication with an exotic outside world.
I imagine my first encounter of his work was falling angels from Nightland above a desk in the Australia Council building in Redfern. It struck me as deeply felt well beyond the then fashion for postmodern 'quotation' of art of the past.
I fancy myself a good researcher but Kimber the artist has eluded my investigations over the years. Instinct tells me there is a father -son narrative, existential uncertainty and spiritual quest.
The quivering high colour ghosts in River of Faces images are among the most touching of Kimber's enigmatic works. As newly forged art they perform an actual magic that eluded the clumsy spiritualist photographs in that.
Beautiful and meditative a little disturbing, River of Faces invites suspension of disbelief and pursuit of personal coming to terms with existence and the quest for love and peace.
Gael Newton AM
Foundation Photography Curator Art Gallery of NSW
Former Senior Curator of Photography National Gallery of Australia
John Deane (The Infernal Diver), full body materialisation,
August 9, 2.28am, 2018, Pegasus print, 25 x 25cm.

Spirit Manifestation,
10:12pm June 3rd, 2018, Pegasus print, 25 x 25cm.
Medium with Ectoplasm, June 14, 1.18am, 2018, Pegasus print, 25 x 18 cm.
Exhibition images and artist's statement - see GAGProjects - click here.
The exhibition dates: 17 October - 18 November 2018
Mark Kimber is the Studio Head of Photography Bachelor of Contemporary Art I School of Art,
Architecture and Design University of South Australia I City West

---
more of Gael Newton's Essays and Articles