JW Lindt
Coontajandra and Sanginguble, Central Australian Aboriginals
German-born photographer JW Lindt made his reputation in the 1870s-1880s for his studio tableaux portraits of Aboriginal people made in Grafton in 1872, and continued to market these images until his death in 1926. Coontajandra and Sanginguble, the two sitters in his 1893 portrait, were Workii clan members from the Mount Isa region. They were photographed, possibly in Sydney in late 1892 but more likely in Melbourne in January 1893, as members of 'The Wild Australia Show'.
This event was presented in Brisbane, Sydney and Melbourne by Archibald Meston, a Queensland journalist who later became the first Protector of Aborigines in Queensland. He hoped to tour the company to the 1893 World's Colombian Exposition in Chicago whose organizers had called for living stenographic displays. Meston's partner in the venture was Harry Brabazon Purcell, a Brisbane-based stock and station agent who had rounded up the performers for Meston from across North Queensland anti Central Australia. Parcel! Delivered lectures in Melbourne in 1893, showing his considerable stenographic knowledge of the central Australian language groups.
The gouges and gashes shown on Coontajandra's arm and back, for example, were explained as evidence of a ritual fighting practice - not traditional initiation and scarification. Meston was, however, also a considerable bushman and expert in Aboriginal languages and culture. He was adept at boomerang throwing too.
Throughout his life, Lindt presented himself as a gentleman-ethnographer but was more interested in New Guinea tribes. He never went to Central Australia. The work is one of his last stenographic works but significantly was marketed as 'art', It has the tall thin 'Japanese scroll' format typical of a style of exhibition print which Lindt made around 1900. It is modelled on the new Pictorialist photography and in its elegiac humanism anticipates the portraiture of Edward S Curtis in America who began his first Native American Indian portraits in Seattle in 1895.
Gael Newton
Formerly the NGA Senior Curator, Photography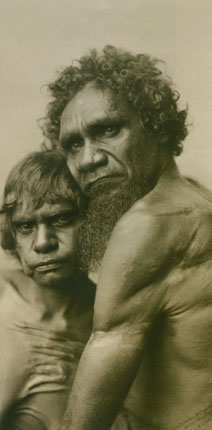 JW Lindt Coontajandra and Sanginguble, Central Australian Aboriginals 1893
carbon photograph, National Gallery of Canberra, Australla
this text originally published in Autumn 2006 Artonview
---